Information on Talcum Powder Ovarian Cancer Dangers for Maine Residents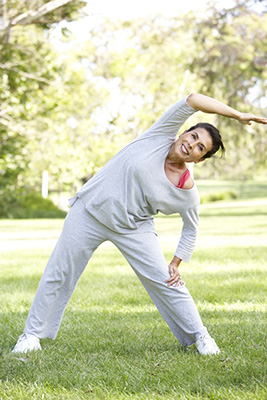 Since the 1970s medical researchers have built a body of evidence that supports the link between feminine talcum powder dusting and increased rates of ovarian cancer. Yet residents of Maine have never been received this important safety information through a talcum powder ovarian cancer warning from Johnson & Johnson or the FDA. It is only through talcum powder cancer lawsuits that Maine residents have come to learn about the risk.
Researchers believe that talc particles which enter the female reproductive system travel eventually to the ovaries, where they become lodged. The particles do not degrade, but can remain intact for decades, causing inflammation and increasing the risk for malignant cells to thrive. One researcher found that dusting with talcum powder once a week increases a woman's risk for ovarian cancer by 33%; another warned that daily dusting increases the ovarian cancer risk by 41%. Yet despite this clear research, talc-based products purchased in Maine do not feature talcum powder cancer warnings and the substance remains unregulated in Maine and throughout the United States.
Publicly, Johnson & Johnson insists its talc-based products are and have always been safe. Yet evidence now available to Maine residents as a result of talcum powder ovarian cancer lawsuits--which provided fodder for an extensive Reuters expose in late 2018--paints an entirely different picture: Since the 1970s, J&J executives have created a complex strategy aimed at controlling public opinion about talcum powder safety in order to maintain the reputation of its Baby Powder. For years, the company staved off federal regulators and held onto the trust of Maine families.
While Johnson's Baby Powder and other talc-based products represent a relatively small portion of the company's U.S. sales, these iconic products were symbolic of the company's once sterling reputation among American families. The company went to great lengths to preserve its reputation as a trusted family brand, a reputation that has crumbled as women harmed by talcum powder cancer in Maine and around the nation have learned the truth.
---
Talcum Powder Cancer Coverup: Information for Maine Residents
Revealed through discovery in recent litigation, the following documents have resulted in major talcum powder cancer lawsuit wins and provide evidence for women in Maine to file talcum powder cancer lawsuits:
Talc Tests Positive for Asbestos; J&J Omits Tests Results in Report to FDA: In 1976, J&J was approached by the FDA for assistance in determining a tolerable asbestos threshold in talcum powder products. As an answer, the company stated that asbestos was not "detected in any sample" between December 1972 and October 1973.
What the company did not tell federal regulators was that between 1972 and 1975, three different J&J labs found asbestos in their raw talc supply: In 1972, a University of Minnesota researcher found "incontrovertible asbestos" in Shower-to-Shower; in 1974, a Dartmouth College professor had found asbestos in a sample of J&J talc in 1974. J&J officials also did not report the results of a 1975 study which detected asbestos in 5 of 17 samples of talc used for Johnson's Baby Powder. Regarding asbestos levels found in the talc, the study lab commented, "Some of them seem rather high."
Head of Research at J&J Cautions Talc Products Could Never Be Completely Safe, 1973: An internal document dating back to 1973 attributed to J&J's head of research cautioned that "no final product will ever be made which will be totally free from respirable particles." In other words, ever talcum powder product is associated with some degree of danger--yet talc-based products have been promoted as safe for daily use for many decades.
J&J Devises Strategy to Counter Damaging Research: An internal company memo outlines J&J's approach to talc safety studies--to avoid sponsoring studies in order to avoid creating new study outcomes that "may be politically or scientifically embarrassing".
J&J Destroyed Mine Records: In 1993, just prior to divesting from the Hammondsville Mine, the chief supplier of raw talc for J&J cosmetics from 1966 - 1990, mine managers destroyed the majority of the mine's records.
J&J Markup: "Cannot say" talc-based products were "always asbestos free": In 2013, a draft of an external communication shows an edit from a J&J employee, making a change from "Our talc-based products have always been asbestos free" to "Our talc-based products are asbestos free", noting, "we cannot say always".
There is evidence to prove that as early as 1970 and as recently as 2013, J&J officials have been concerned about the link between talcum powder and cancer--which runs counter to the company's continued insistence that its products have always been safe. Now the company faces thousands of lawsuits from women and family members of women in Maine and around the nation alleging harm from talcum powder products. For its failure to issue talcum powder cancer warnings and its repeated prioritization of profits over human life, Johnson & Johnson must be brought to justice.
---
Let Our Talcum Powder Attorneys Serving Maine Help You
Our attorneys serving Maine specialize in holding large corporations accountable when they've placed profits ahead of safety. Through settlements and winning verdicts, our attorneys have obtained millions for our clients. Let us help you today.
Lawsuits for Talcum Powder Ovarian Cancer from Maine Residents
Filing a lawsuit will allow you to hold Johnson & Johnson accountable for damage it has caused you or a loved one, while also providing real compensation for your medical expenses, suffering and loss. Contact us today for a free consultation.